Product Description
Non-metallic wear-resistant surface hardener


Non-metallic wear-resistant surface hardener Product overview:
Nonmetal aggregate emery floor used for abrasion and impact resistance resistance dust and concrete ground for nonmetal aggregate demand, such as warehouse, workshop, parking lot, repair shop, garage, HuoCangShi mall site on the ground.Oil Curing Agent,Water-based Curing Agent,Epoxy Antistatic Self-leveling Floor.

Emery Wear-resistant Floor Applicable place:
The ground of special places such as supermarket, building hall, warehouse, automobile exhibition hall, automobile repair shop and underground parking lot;Epoxy Anti - Static Level Coating,Sealed Curing Agent.
The area with high mechanical property requirements has certain impact mechanical, electronic, electrical, instrument, medicine, textile, clothing, food, tobacco and other enterprise factory floor. Industrial plant, production workshop, warehouse, logistics center, garage, parking lot, supermarket, etc.

Ground hardener wear-resistant Product features:
1. High performance wear resistance;
2. Reduce dust;
3. Convenient for construction and maintenance;
Non-metallic Ground Hardener Product anatomy :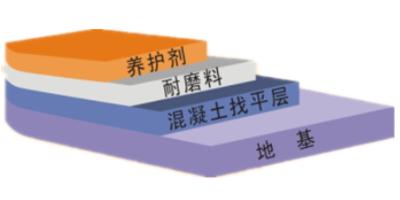 High Performance Emery Floor Basic requirements:
The concrete strength requirements of the concrete base are above C25, and the water-cement ratio is below 0.50, and the concrete slump should be controlled at 70-100mm, and the concrete mixing plant can reduce the segregation and control the bleeding. In order to ensure that the concrete mix is sufficiently liquid and conducive to construction, concrete admixture is recommended. The concrete should be poured and vibrated according to the standard of good concrete, and the size should be taken care of and the slurry will be reduced. Hardener surface layer with concrete structure construction at the same time, such as screed-coat construction at the same time, suggest using fine aggregate concrete, concrete leveling layer thickness of not less than 50 mm, and consider the configuration telescopic steel fabric pay special attention to the corner of the concrete block construction at the grass-roots level, ensure it concrete vibratory compaction, and additional strengthening treatment should be taken.
Construction technology:
Surface treatment: the surface layer of the concrete shall be removed by the mechanical trowel of the plate. For the first time, the abrasion resistant floor material of zibo carborundum: 2/3 hardened and wear-resistant floor materials of the specified amount shall be uniformly distributed in the concrete surface of the initial solidification stage, and shall be polished and treated with a low speed smoothing machine;
Technical indicators:

project

index

Non-metallic aggregate type Ⅰ

Metallic aggregate type Ⅱ

Wear (gear method)

≤650

≤450

Compressive strength

3d

≥49.2

≥50

7d

≥60

≥65

28d

≥80

≥90

Flexural strength

≥11.5

≥13.5

hardness

7.0±0.5

8.0±0.5

Oil resistance

Three-year strength of the oil bubble is not reduced, paint <0.3mm (including impermeability)

Corrosion resistance

Standard corrosion test of aggregate, 42d natural potential constant positive, the stability value of +50 mm (S.C.E), the maximum value of +120 mv (S.C.E) cement test, 5% NaCI solution immersion, 2 years and 3 months without rust.

Skid resistance

Same as ordinary cement floor

Same as ordinary cement floor
Leveling: use 6 meters of scraper to evenly spread the abrasive materials along the horizontal and longitudinal direction. Second cloth material: dosage would stipulate a third color evenly cloth emery wear-resisting flooring materials (after the first grinding emery wear-resisting flooring material surface), again with flattening machine polishing processing; Surface polishing: according to the hardening condition of concrete, adjust the blade Angle of the polishing machine to ensure the surface smoothness and finish. Base level keeps expanding: emery wear-resisting flooring in the construction of 4 ~ 6 hours, after the completion of maintenance should be on the surface, to prevent surface water evaporation, sharply to ensure the steady growth of emery wear-resisting floor strength.